Thrillers by Justin Scott
---
Shipkiller Home | Shipkiller History | Shipkiller Chart
The History of The Shipkiller
I published The Shipkiller in 1978. A movie sale and an excited publisher made for a colossal advertising budget, and we were about to launch with double-truck ads in the Sunday Times Book Review and a huge repeating program in the daily paper when the New York Times was shut down by a strike.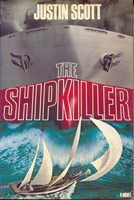 This was back in the day when the only place worth advertising a book was in the New York Times, not only for the New York area market, which led book sales, but for every bookstore owner and clerk in the nation, all of whom read the Sunday Times Book Review. We had no place to buy ads, no way to tell a nation of readers that the book was available, no reviews and ads to tell booksellers that the book existed.

As my agent, Henry Morrison, put it: "The Shipkiller would have been a New York Times Bestseller if there had been a New York Times."
The novel enjoyed strong sales nonetheless, huge sales internationally, and truly wonderful reviews--everywhere but at the New York Times which stayed struck for nearly three months. By the time the printers went back to work we were dead in the water.
Somehow, The Shipkiller became a cult classic among the sailing and yachting crowds. More miraculously, it seduced people who lived a thousand miles from the water. I routinely receive letters like this: "After I read The Shipkiller I decided to drop out of law school and learn how to sail . . . and now my children are splendid seamen and we all live somewhere in the South Pacific." Years passed and despite numerous hardcover, mass market and book club editions, gradually the novel fell out of print (except in France where you can still buy fresh copies of Le Tueur Des Mers).
Then along came a new movie deal with a talented director who looks like he really will make the film. Next, the otherwise-sober Thriller Writers of America listed The Shipkiller in their anthology, Thrillers: 100 Must-Reads, alongside Theseus and the Minotaur, The Odyssey, Beowulf, The Bourne Identity, and The Hunt For Red October.
The stars were lining up to get back in print. Rather than wait for the movie to get done, we decided to issue it in hardcover and found a publisher who believed that readers still want a handsome hardcover book to hold in their hands. Or he figures that so many copies have succumbed to salt spray, mildew, unscrupulous borrowing, and simply falling overboard that a market exists. Whatever he believes, God bless him. It's coming out on Father's Day, and I am the happiest writer in America.